Three Rainbow Trout Sunday at Bethany Lakes!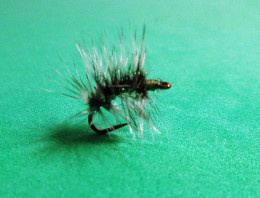 Following up on yesterday post – "Quick Trip To Bethany Lakes… Running Errands", below is the video of the action at Bethany Lakes where we caught three Rainbow Trout using a Tandem Rigged Near Deere and trailing COAF Griffith's Gnat!
It was very cold; we had to keep clearing the rod guides on our fly rod. Also, it took a little to find the pattern but we managed to find one that worked until the Cormorant arrived and started spooking the trout.